We manufacture polishing templates utilizing materials proven in the industry for waxless wafer mounting.
Our templates are designed and used to replace traditional methods of wax mounting wafers for single-sided polishing applications. Our polishing templates are composed of a G-10 fiberglass carrier, precision machined and specially bonded to a porous backing pad to create a unique holder for the wafer. With our proprietary manufacturing methods and material uniformity characteristics, we are able to offer templates that outperform the industry standard and provide consistent results.
ADVANTAGES
No waxing or de-waxing required
Ease of template installation
Reduced time to de-mount wafers
All polishing templates come pre-laminated with a pressure sensitive adhesive for proper attachment and adherence to the polishing head.
BACKING PAD PROPERTIES
| PROPERTIES | UNIT | TYPICAL VALUES |
| --- | --- | --- |
| Thickness | μm | 600 |
| Density | g/cm' | 0.67 |
| Hardness | Asker-C | 78 |
| Pore Size | μm | 30-100 |
| Compressibility | % | 2.5 |
FILWEL BACKING INSERTS
We also supply backing inserts for those who require just the backing pad for their insert polishing needs. These inserts can be used as a direct replacement for many of the standard backing inserts available on the market.
Backing inserts come in a variety of different shapes (square and round) and dimensions. We precision die cut all of our backing pad inserts so they meet the dimensions required for a trouble free install.
CUSTOM DESIGN
All templates are custom made specific to your application and can be manufactured with a variety of different pocket depths and dimensions.
Prior to the manufacture of any templates, CAD drawings are prepared according to your desired design and layout to ensure parts are made to your required specifications.
STANDARD POCKET DIMENSIONS
(1.00mm) to 0.008″ (0.20mm)-0.059″ (1.50mm)
To help us get started, please use the below template drawing form to submit any new carrier design requests or changes.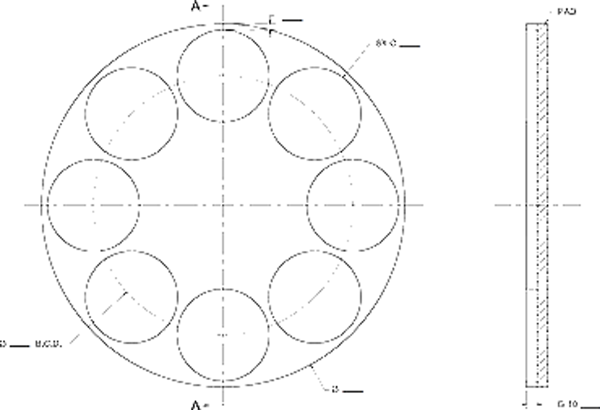 Have additional questions or would like to confirm dimensions before getting started? Please feel free to reach out via contact form below.